Top 10 Time Tracking Apps for Mac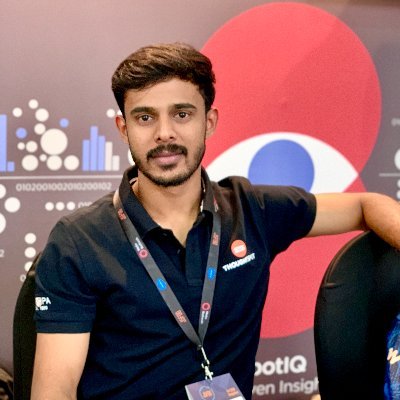 Sachin Neravath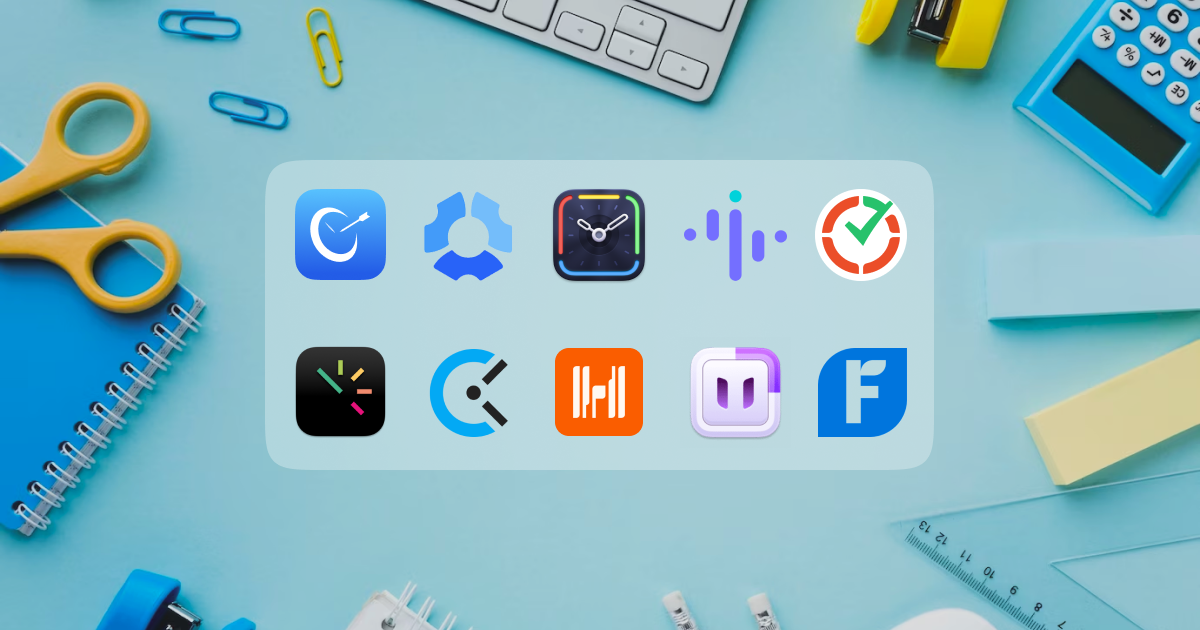 "Time is money," is more than a saying. For small businesses, freelancers, and consultants, it's the lifeblood of their income. Keeping an accurate track of your time takes all the headache of working on a project. Using the latest time tracking apps for Mac allows you to accurately bill clients and cut wasted hours calculating your costs.
Even better, the newest apps integrate AI, automate invoicing, reduce administrative work, and help supercharge your productivity. You'll wonder how you ever lived without them.
We're delving into the top ten time tracker apps for Mac – going through the pros and cons of each. Set your clocks – let's go.
Top 10 Time Tracking Apps for Mac
timeMaster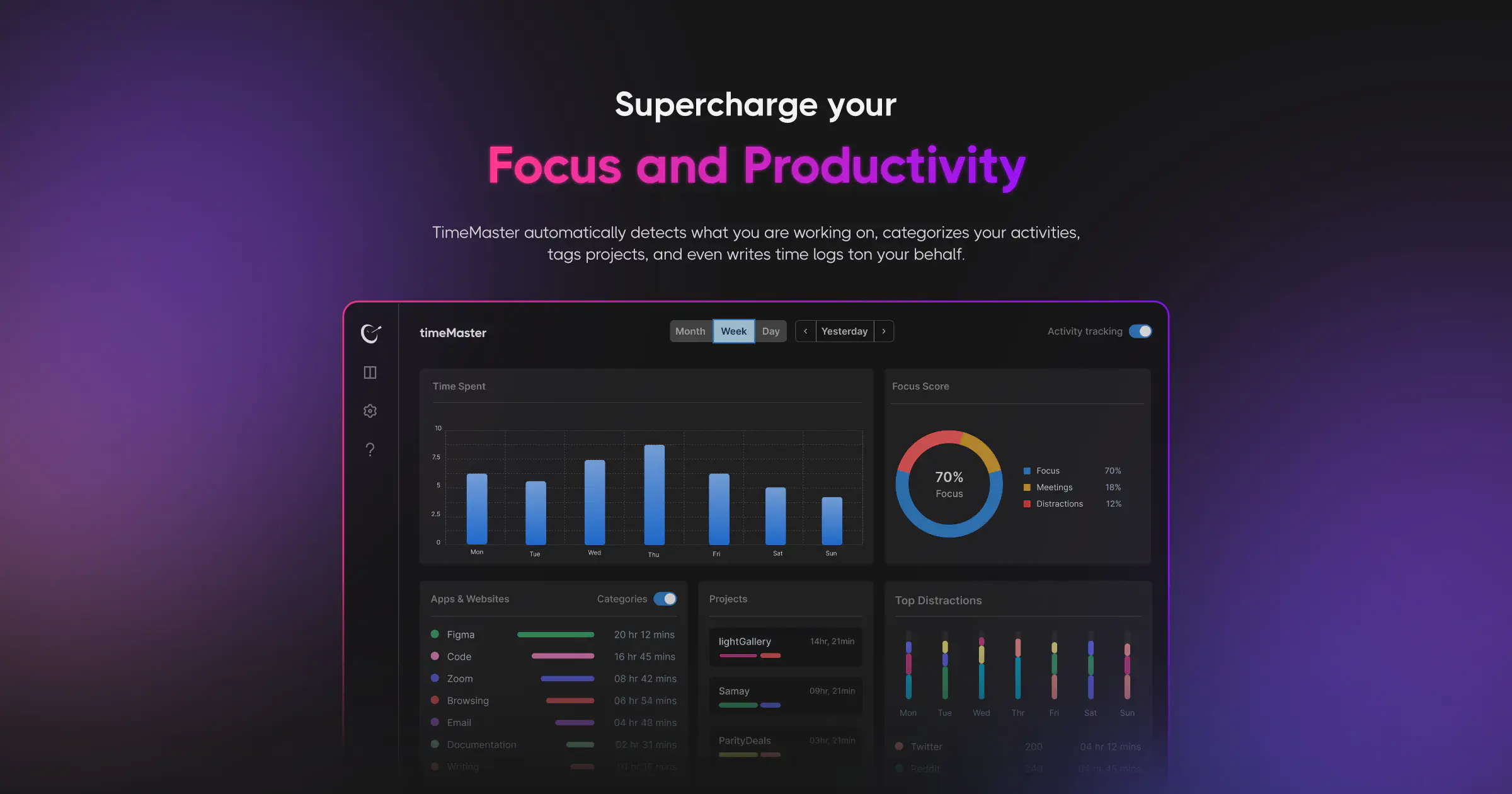 timeMaster is a productivity platform unlike most Mac time tracking apps. Harnessing the power of AI, it automatically detects new projects, tracks your time across apps, excludes non-work activities, and much more – giving you a precision picture of your work time. That's not all – you can also maintain a healthy work-life balance through overworking notifications, daily journal, and a detailed work-break ratio. Pretty impressive, right?
Pros:
AI-optimized personalization to your work patterns and habits
Fully automatic time tracking
Impressive privacy and security protocols
Cons:
No invoicing options for small businesses
Exclusive to Apple products
Not suitable for businesses and companies
Hubstaff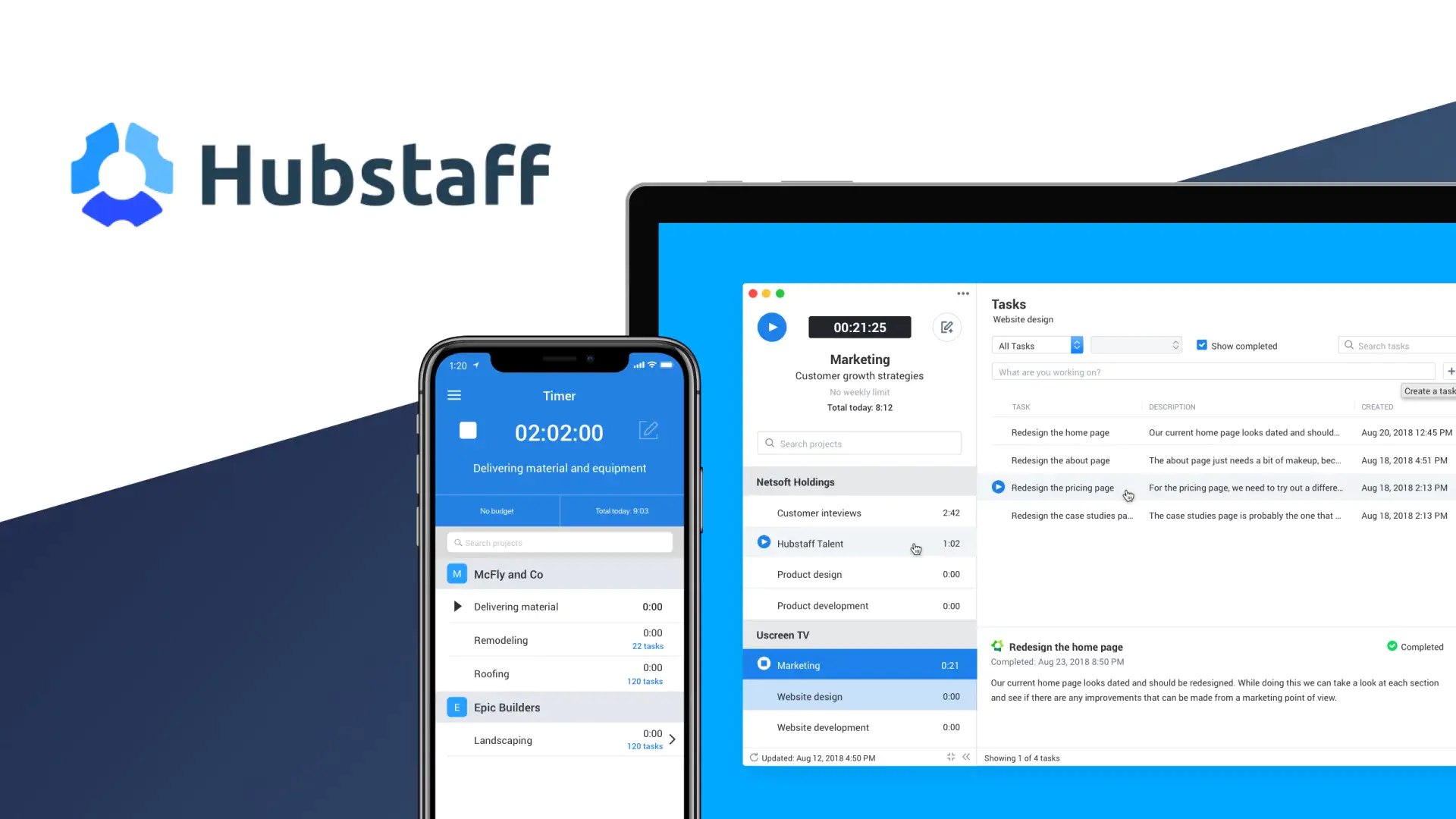 Robust and comprehensive, Hubstaff is a trusted time and activity tracking app. Renowned for its geolocation features, companies and professionals can use it to manage remote teams, while integrating with over 30 different applications. However, an internet connection is required for tracking, and some may find its interface overly complex.
Pros:
Monitors time, activity levels, app and URL usage
Great for managing remote and field-based teams
Works seamlessly with over 30 other applications like Trello and Asana
Cons:
Some users find it a bit complex and not very intuitive.
Requires an internet connection for real-time tracking.
Can be relatively expensive, especially for small businesses.
Timing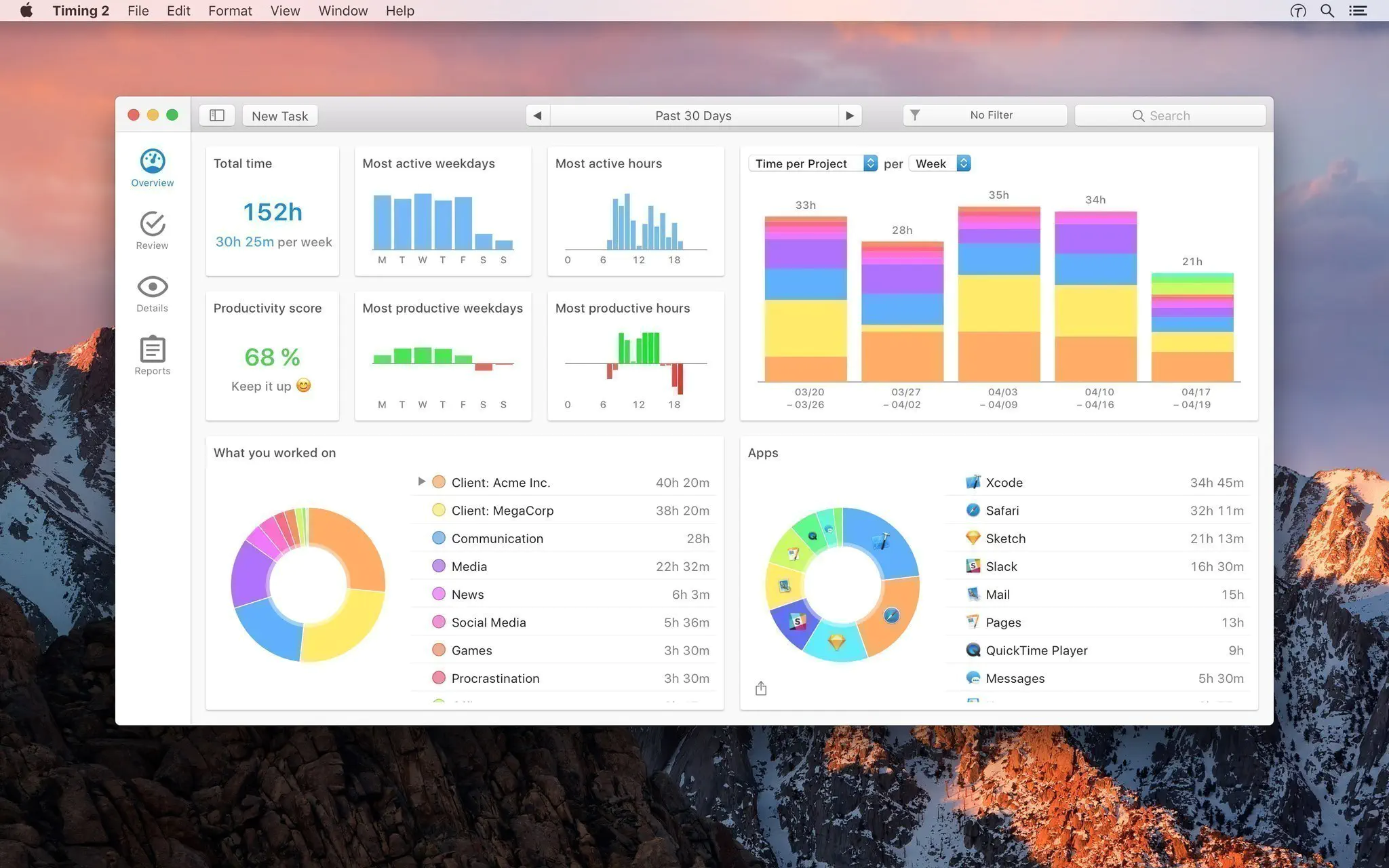 Designed for macOS, Timing allows automatic time tracking and detailed reports. Unlike other Mac time tracking apps, it stores data locally, guaranteeing privacy. Moreover, the software allows you to drag and drop activities into the grid, making it super simple to keep track of your time.
Pros:
Records how you spend time on your Mac without manual input.
Provides insightful reports for productivity analysis.
Data is stored locally, not in the cloud.
Cons:
Primarily designed for individual use.
Limited to macOS, with no iOS counterpart.
Some users report difficulty in initial setup.
Tyme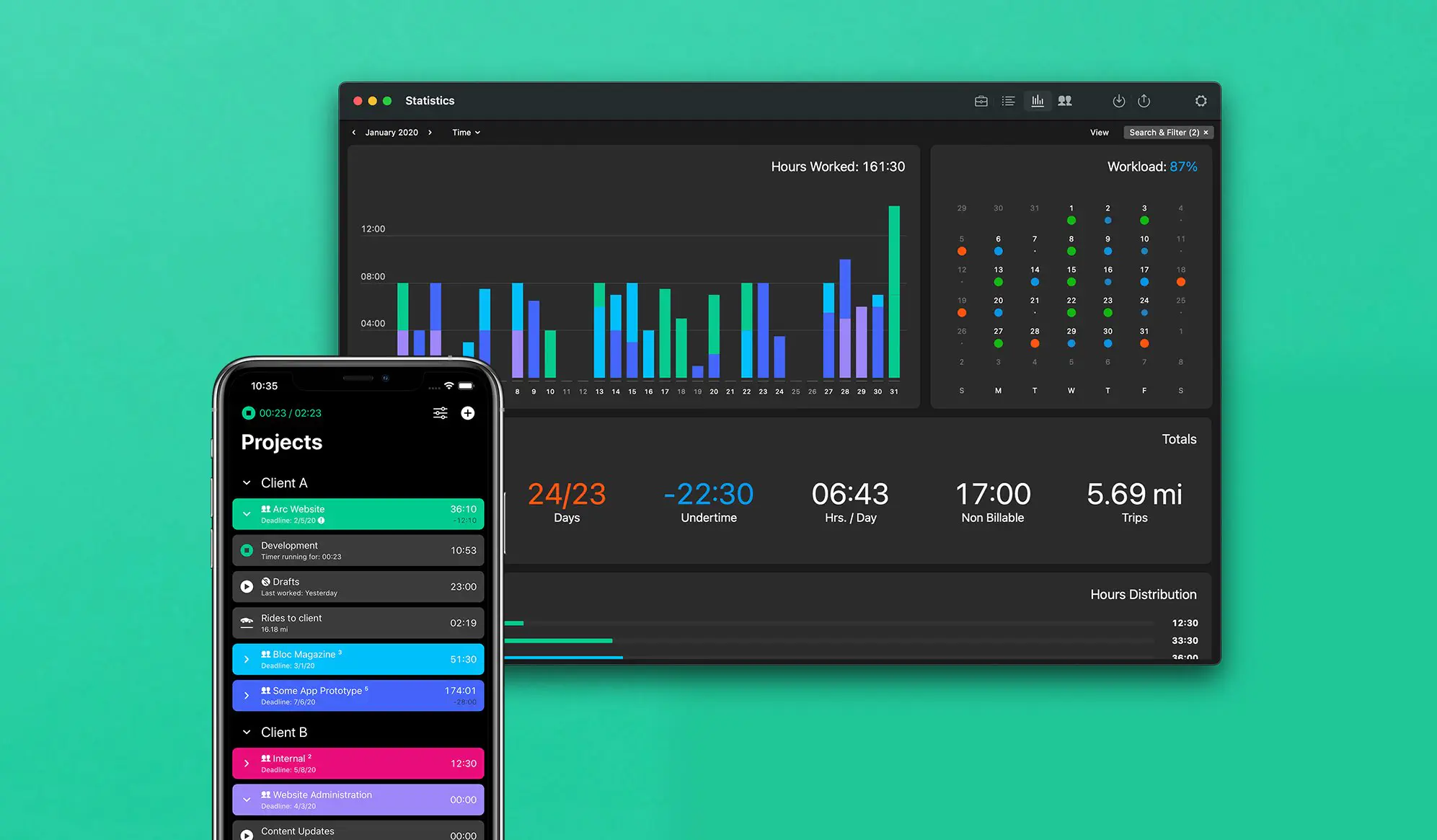 The first thing you'll notice in Tyme is the sleek interface. Easily scroll and flick through project timesheets or explore your workload overview. You can also set reminders to prompt you to record your time. Oh, and the custom keyboard shortcut lets you speed up your time tracking – it's a feature you won't see anywhere else.
Pros:
User-friendly and straightforward interface.
Seamless synchronization across all Apple devices.
Suitable for freelancers, small teams, and large companies.
Cons:
Lacks robust integration with other software.
Exclusively for the Apple ecosystem.
Higher end of the price spectrum.
Klokki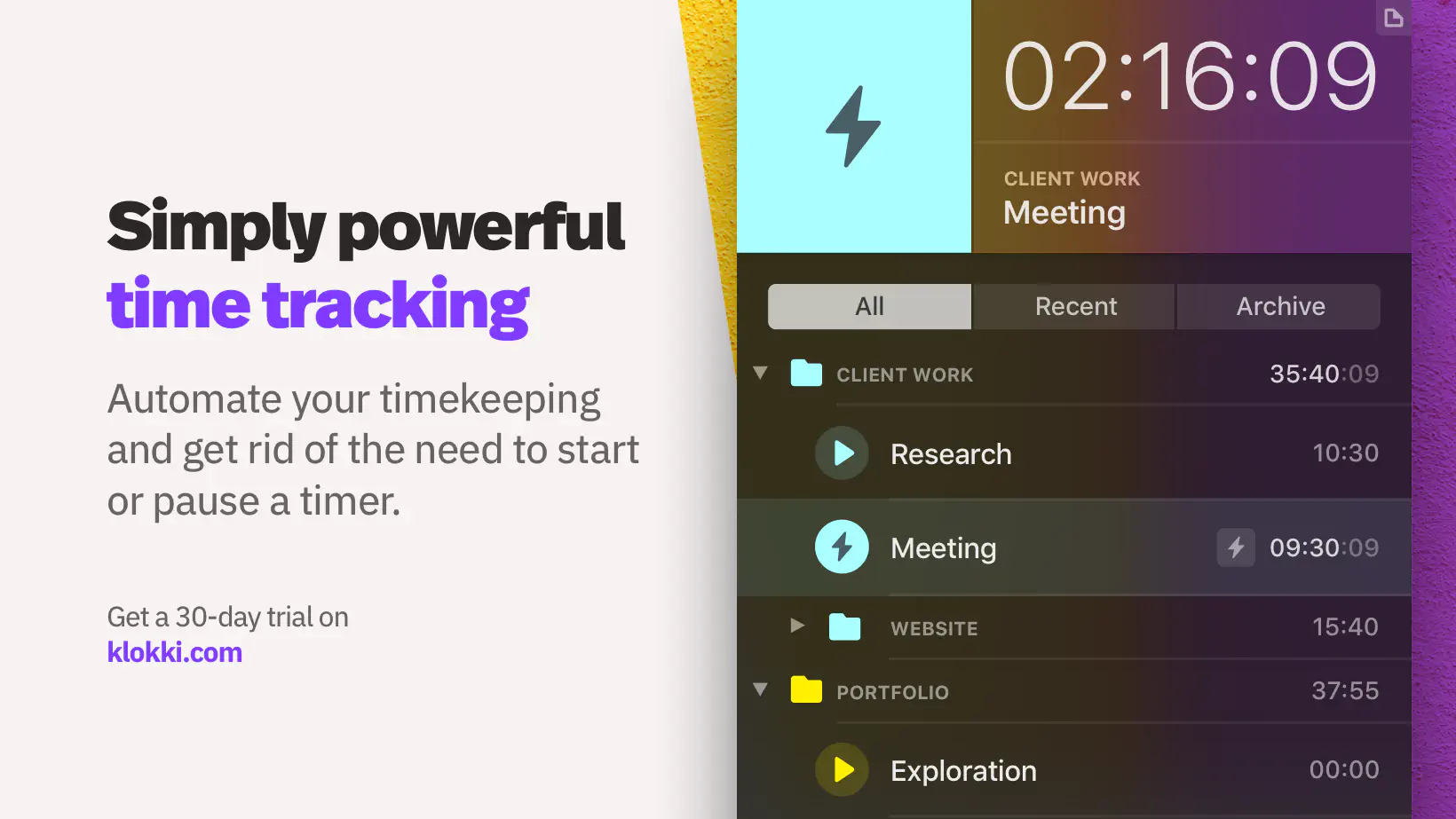 Start and stop a timer to track your time in Klokki. Better yet, the app automatically detects and excludes idle time, keeping your reports to the point. And, if you need to share the data with a third-party, simply download a CSV file – a handy feature if you want to export your data to another app.
Pros:
Triggers time tracking based on predefined rules.
Doesn't collect personal data.
Budget-friendly with a one-time purchase option.
Cons:
Not as detailed compared to other apps.
Best suited for individual freelancers.
No support for other operating systems.
Insightful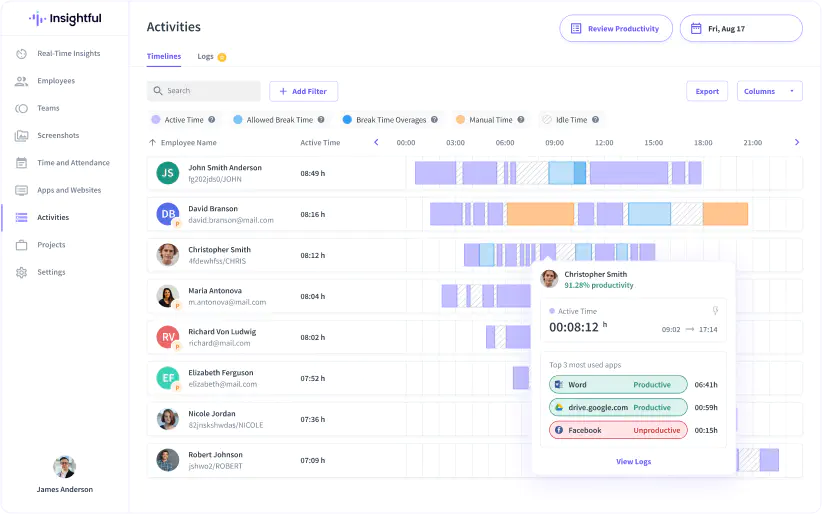 Tailored towards employee monitoring, Insightful works seamlessly while an employee is grinding away. It'll automatically capture paid and unpaid breaks and has two modes: Visible Mode and Stealth Mode. The former is visible while an employee is working; the latter starts tracking in the background the moment an employee logs on.
Pros:
Offers in-depth insights into how time is spent.
Accurate tracking with timestamps for tasks and projects.
Allows setting time goals for tasks to boost productivity.
Cons:
Requires a continuous internet connection.
May not sync well with some third-party apps.
Some users find it overly complicated, especially for simple projects.
Clockify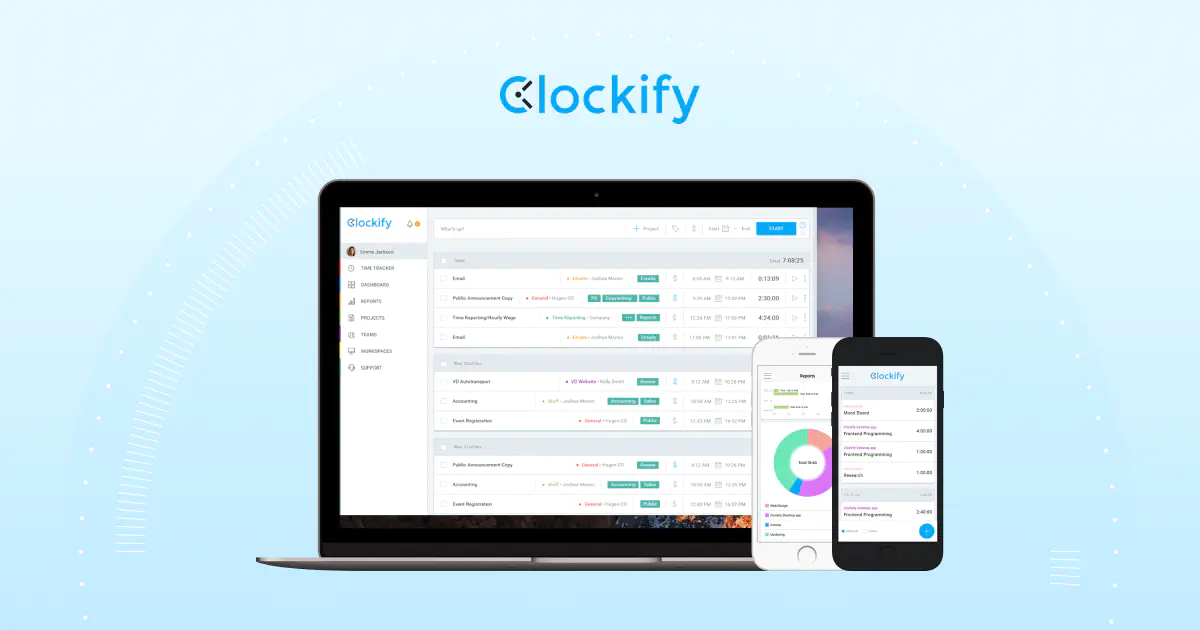 Like Insightful, Clockify is focused on logging work from a business perspective. Its features include time tracking, time sheets, cost and profit tracking, scheduling, and time off management. The simple, intuitive system is fantastic for professionals and entrepreneurs.
Pros:
Provides a robust free plan for unlimited users.
Allows for team time tracking and reporting.
Compatible with a multitude of apps such as Trello, Asana, and Jira.
Cons:
Some users report it's less intuitive compared to competitors.
Requires internet for most features.
Essential features like invoicing are only in paid versions.
Time Doctor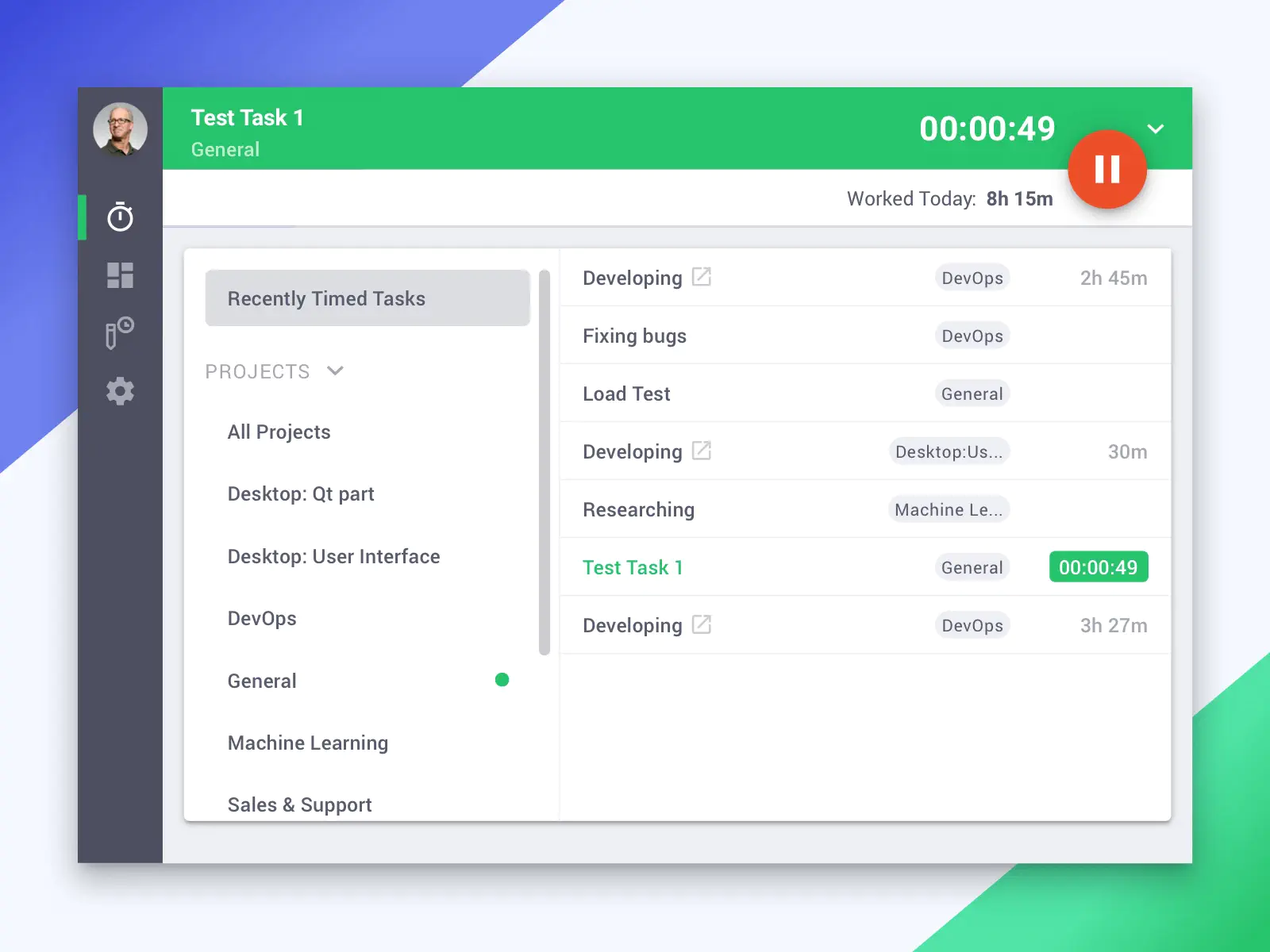 Time Doctor is almost tailor-made for large teams and big organizations. Got a workforce spread across different sites as well as working remotely? Time Doctor will effortlessly track and store all their worked hours, delivering insightful productivity reports that drill down to the employee level.
Pros:
Provides pop-ups to deter users from unproductive sites.
Offers comprehensive insights into time usage.
Allows for optional screenshots for remote team management.
Cons:
Some may find screenshot features and constant monitoring invasive.
The range of features can make it seem complicated to new users.
Higher priced compared to some other time-tracking tools.
FreshBooks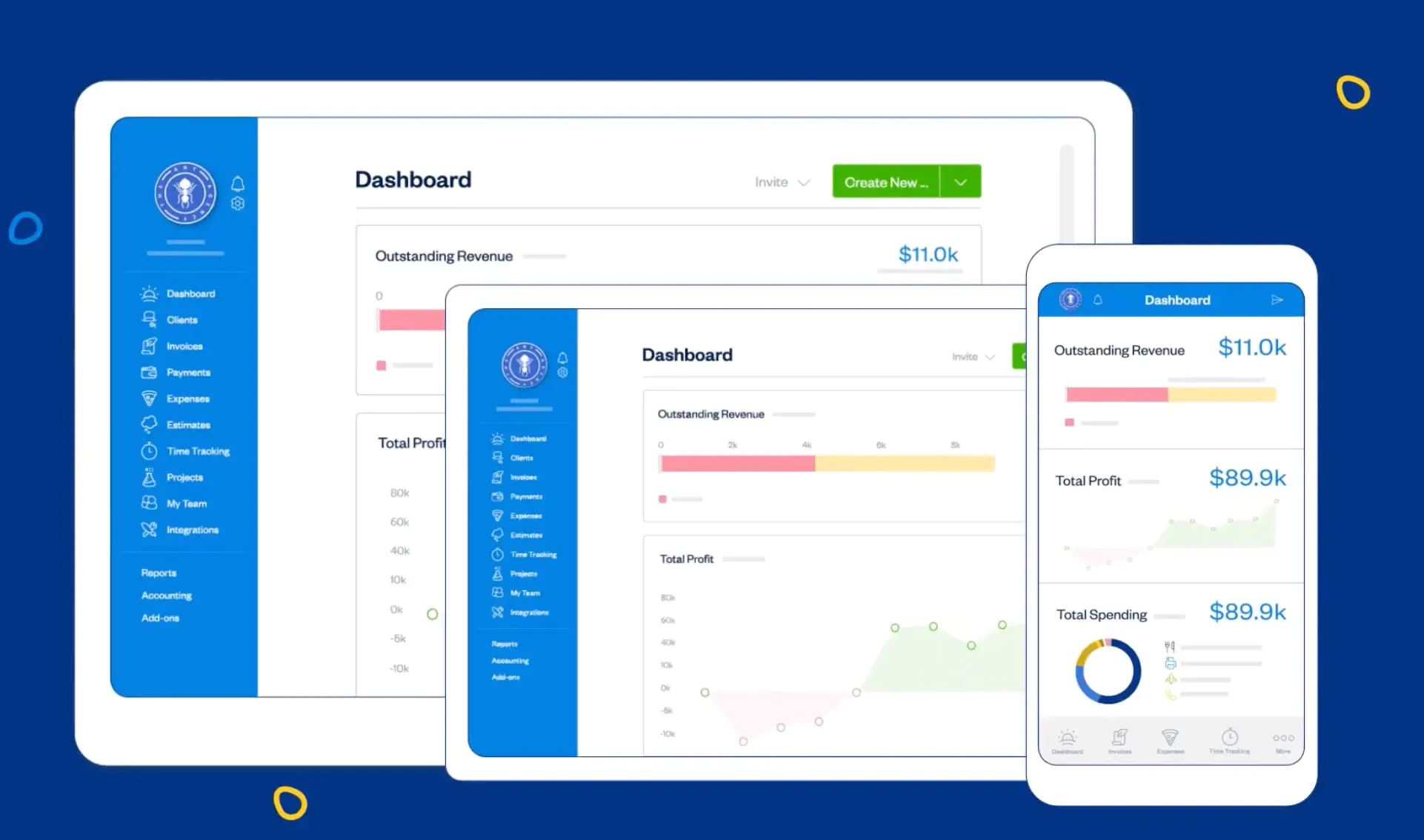 First and foremost an invoice service, Freshbooks time tracking is often overlooked. However, it does an incredible job of translating tracked time into invoices, and its expense management features are unparalleled. Better still, the platform delivers daily breakdowns of employee recorded hours.
Pros:
Time tracking is part of a larger suite of accounting tools.
Directly turn tracked time into client invoices.
Allows for team time tracking and project management.
Cons:
Too much complexity if you only need time tracking
More expensive if you don't need the other accounting tools.
Takes time to learn all the features and functionality.
Harvest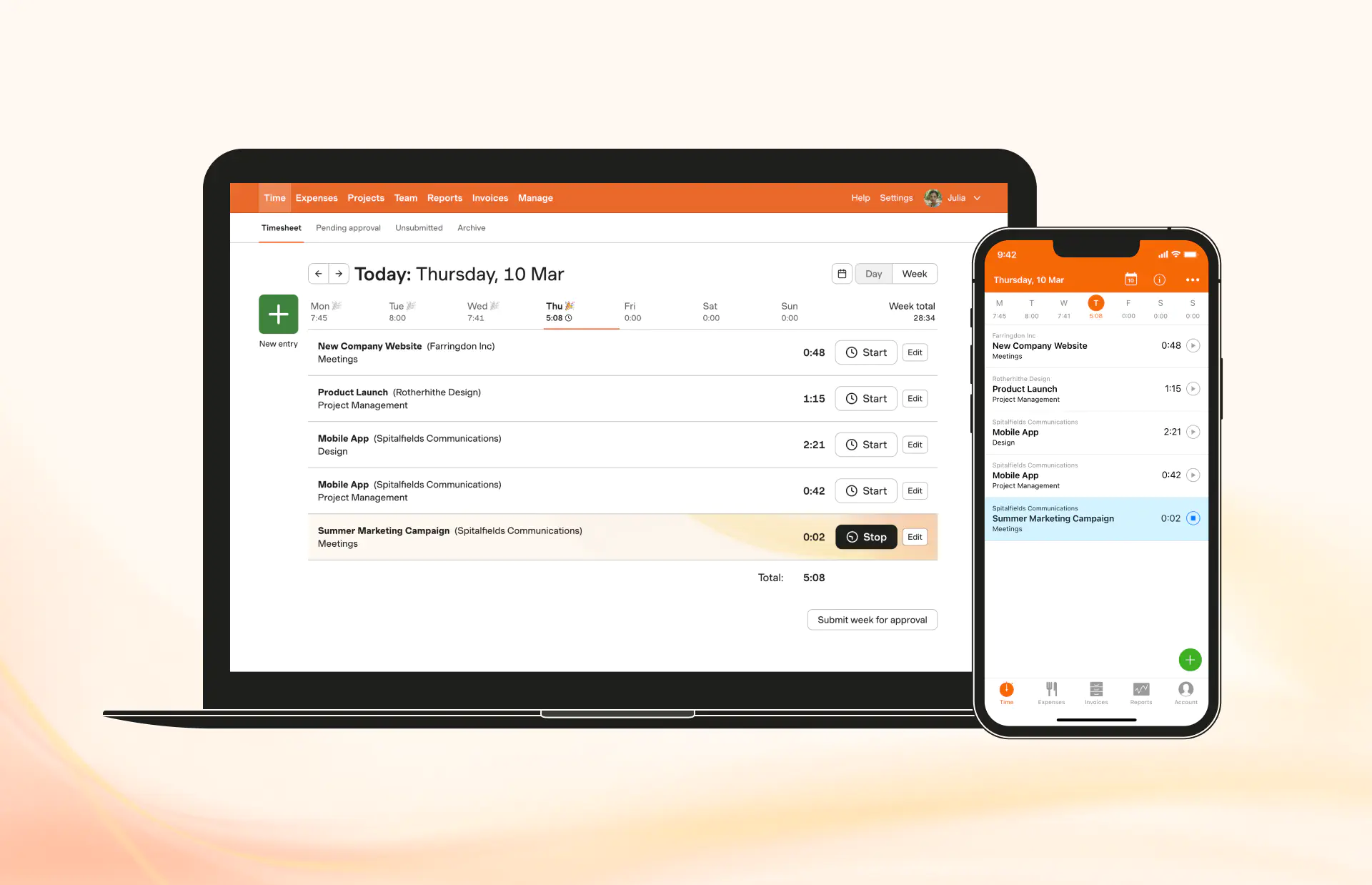 Harvest is a project management platform and time tracking tool rolled into one. Companies can track work in real-time, helping to manage resources across dozens of projects, integrate the data with apps like Asana, Slack, and GitHub, and generate client invoices.
Pros:
User-friendly interface with intuitive design.
In addition to time tracking, it can monitor project expenses.
Works well with other tools like Asana, Trello, and Slack.
Cons:
Only allows for one user and two projects.
The paid version is comparatively higher priced.
Some users report a lack of flexibility in reporting and invoicing.
Utilizing the power of a time tracking app can revolutionize the way you work, manage projects, and invoice clients. Whether you're a freelancer, consultant, or small business owner, timeMaster can help you streamline your workflow and supercharge your productivity.
Don't let time management be a burden any longer. Take control, improve efficiency, and boost your bottom line with timeMaster. Start your free trial today and experience the transformative power of intelligent time tracking.
Sources:
https://blog.hubstaff.com/best-mac-time-tracking-apps/ https://www.timedoctor.com/blog/mac-time-tracking-app/ https://www.igeeksblog.com/best-time-tracking-apps-for-mac/ https://zapier.com/blog/best-time-tracking-apps/